Custom Family Portraits
Popular for weddings, anniversaries, birthday and Christmas gifts. These portraits are not photo-realistic. They work best when information about each individual is given, exact outfits, favourite way to wear their hair etc. These highly personalised details are what make these portraits special and will be what connects you to your portrait.
Your portrait will be finished and sent to you within 2 weeks of receiving the information needed to completed your portrait.
This listing is for a DIGITAL custom family portrait. Your portrait will be sent via email as a high-resolution JPEG for you to print up to A3 in size.
All portraits will have a simple green leaf wreath around the people unless specified otherwise.
Up to 2 pets are included in the cost of each portrait. Any extra pets will incur an added cost of $20/pet.
Once you have purchased your portrait follow the steps below to start the process: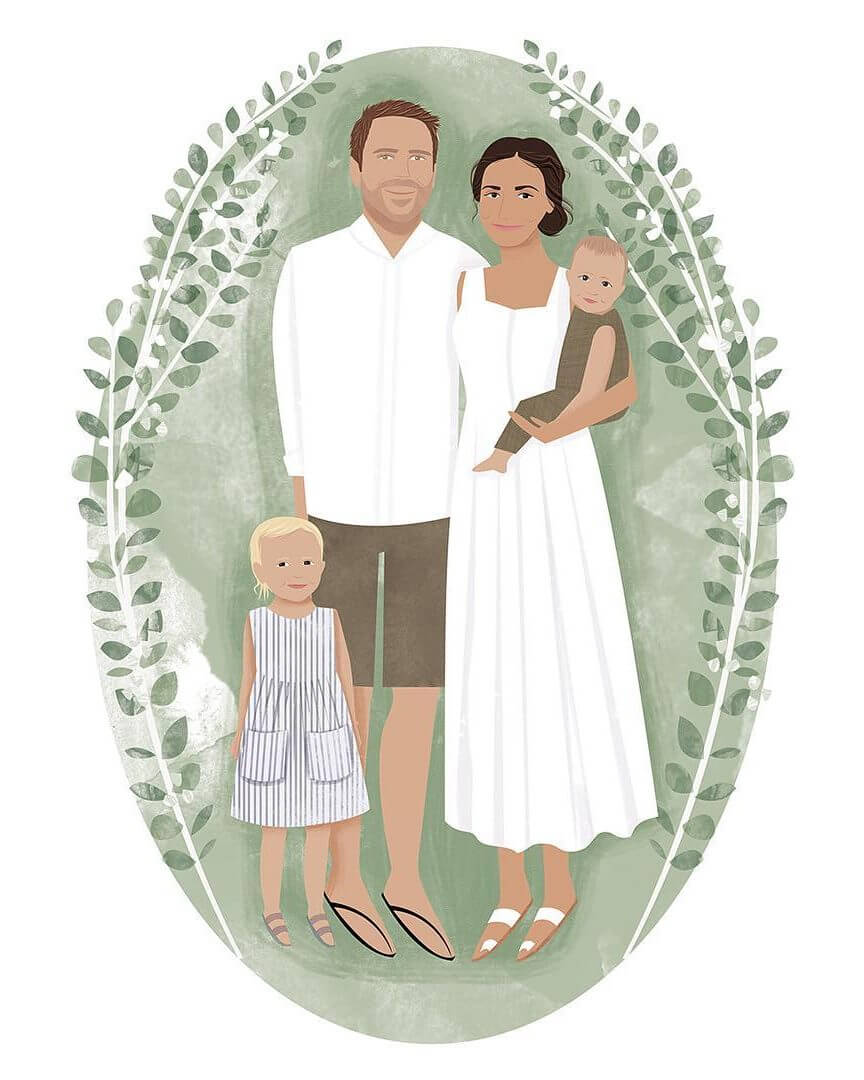 After purchasing the digital illustration family portrait please fill out this form and upload your images. Please have your images labeled for each person and include images of the clothes you'd like them to be illustrated wearing.
PHOTOS:
Please send an email to hello(at)tothetrees.com.au and include 2 – 3 photos of each person that will be in the portrait, photos don't need to be professional quality but clear enough that I can see the detail in the subjects face. A photo of your pet sitting (for dogs and cats) are required plus a close-up photo of their face – collar, coat etc. Separate photos for each subject are needed, relative heights are important photo reference is needed.
Photos need to include the clothes you would like each subject to be illustrated in – you can send photos of them in their outfit, photos of their outfit or links to the clothing items in online stores.
JPEG photos are best attached in an email with text descriptions, for larger portraits one email per person or a well-organised zip folder is ideal. Please do not send word documents or PDFs.
REVISIONS:
I will get a black and white draft of the portrait to you within 7 days of receiving your order. You can make 2 minor changes and any revisions on top of this will be charged $25/revision.
FINAL PORTRAIT:
A high-resolution digital file of your portrait will be sent to you via email. You can print this as many times as you like up to A3 size.
If you would like to order a printed version of your portrait you can do so by purchasing the separate listing here.
ALSO: Please note, you don't have the rights to use the portrait as a blog header, on your about section of your website, wedding invitations or anywhere else to promote your business or be printed for personal reasons (i.e. gifts, invitations) without seeking permission. You can, of course, share it on your socials, attribution is always lovely but it's not mandatory.
REFUNDS AND CANCELLATIONS:
If you do not provide me with the necessary information to complete your portrait within 12 months your portrait order will be cancelled and you will not be issued a refund. If you do not provide me with the information needed in the month you are required, your booking will be pushed to the bottom of the queue and completed when I have a gap in my schedule.
Cancellations are accepted within 7 days and a full refund will be given. Cancellations made after 7 days will not be refunded.